Pistonless Pump Technology
The pistonless pump is similar to a pressure fed system, but uses inexpensive materials and smaller volume, without disrupting performance.
Pistonless Pump Advantages
The pistonless rocket fuel pump increases safety and reliability while reducing cost and development time.
Research & Development
The pistonless pump has been validated through proof of concept testing and has been featured by several publications.
The Flometrics Pistonless rocket fuel pump is a highly reliable pump that uses two pumping chambers alternatively filled with fluid and pressurized in sequence to maintain a steady flow of pressurized propellant to a rocket engine.  Because of its reliable and innovative technology, it is both cost effective and more feasible when compared to the pressure fed and turbopump designs.
Flometrics Rocket Fuel Pump
Turbopump Performance With Pressure-Fed Reliability
Features of the Pistonless Pump
The Flometrics Pistonless Rocket fuel pump is designed to cost-effectively eliminate the flight failures of current turbopump technology while increasing performance and reliability.  Learn more about the Pistonless Pump
Performance Comparable to a Turbopump
Increased Safety
Failure Tolerant
Pistonless Pump Technology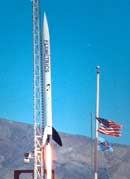 Flometrics provides R&D and engineering services to the aerospace, semiconductor, medical devices and consumer products industries. Flometrics develops engineering solutions quickly and effectively by combining theoretical knowledge with practical capability. The engineers at Flometrics have the knowledge and experience to analyze problems in fluid dynamics and thermodynamics, combined with hands-on capability and an expansive stock of tools and instruments to set up experiments and build prototypes